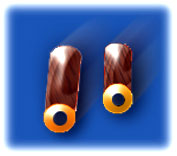 Ultra v cut solder wire as is already known, flux spattering always poses a serious problem to workers who solder by hand.

Ultra v was thus designed to solve this specific problem.
The heat applied on ultra v will cause some of the moisture to evaporate through the surface of the v groove, effectively one good reason to prevent flux spattering.