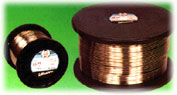 Our Solid Wire can be produced in various diameters.

One of the more popular type is our 3 mm Solid Wire in
20 kgs. per spool packing 3 mm. Solid Wire is used in the wave soldering process together with an auto feede to transfer the wire into solder melting pot .